Are you looking to purchase real estate near your favorite country club? Or are you relocating to the Boise area with the golf resort lifestyle in mind?
With Boise's temperate weather, and desert landscape, the Boise area is the perfect climate for golfers. With over ten courses just in the Boise area alone, there are plenty of options for resort style living – Crane Creek being one of our favorites.
REAL ESTATE
The homes near Crane Creek Country Club are in the Highlands neighborhood, located between Bogus Basin Road and the Camel's Back Reserve. Just ten minutes from downtown Boise, the Highlands area is perched on top of the Boise foothills. Many homes have panoramic views of the city and country club, making the neighborhood highly desired for both golfers and non-golfers alike. Land prices in the Highlands neighborhood range from $300k – $900K while homes start at an average price point of $1.5M. Being a homeowner in this area is a luxury in the city of Boise. Many residents enjoy the dramatic city views, take personal golf carts from their garage to the golf course, enjoy frequent family dinners at the club, and are only ten minutes to downtown - a lifestyle you can only get with very few homes in the Valley. If you are looking for more information or have any questions regarding Highlands real estate near CCCC, contact us!
THE COURSE
HOLES: 18
PAR: 72
YARDS: 7,071
Crane Creek Country Club, nestled in the Boise Foothills, is an 18-hole course located just minutes north from Downtown Boise. As it is tucked in the foothills, the course has a neighborhood feel with expansive views, making for a very welcoming club for Boise residents.
Designed by
Bob E. Baldock
in 1963 and redesigned by
David B. Druzisky
in 2017, the course is challenging with gorgeous mature trees and beautiful undulating terrain. It has tight fairways, lightning quick greens and a canyon that cuts through the back nine holes featuring rolling bent fairways that traverse their way past fairway bunkers. The course is also known for its excellent turf conditions and expertly manicured greens. While not in plain sight, Crane Creek prides itself in preserving and enhancing Boise's wildlife habitat, earning the title of a Certified Audubon Cooperative Sanctuary, making it one of the 10% of clubs in the nation to have achieved this commitment.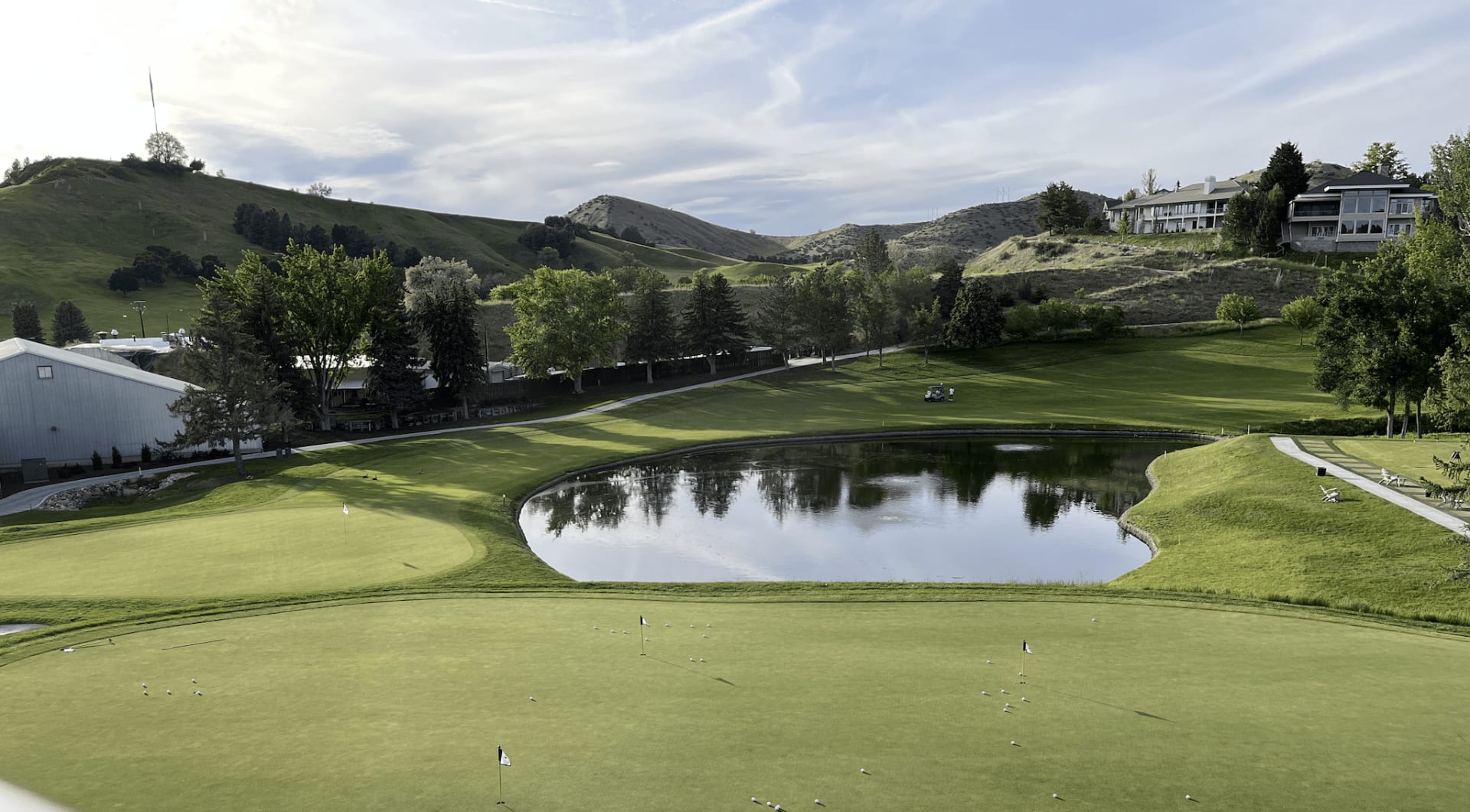 THE CLUB
We all know that joining a country club comes with more perks than just golf. Crane Creek is home to many other luxury amenities that are worth considering when looking at country clubs in the Boise area.
CCCC also features an Olympic-sized saline-based swimming pool, complete with a diving board and poolside food and beverage service. Members can lay by the pool, order delicious salads or smoothies and recreate or relax. The Poolside Grill offers everything from giant ice cream cones for kids to some of the best burgers in town. For swimmers outside of leisure, the club also offers private swim lessons, adult lap swimming, H20 Fit Class and is home to the Crane Creek Swim Team.
Interested in tennis or pickleball? Crane Creek offers both indoor and outdoor courts for tennis players of all levels. Take advantage of the club's adult, senior and mixed leagues, weekly clinics for juniors and social events. If you are looking to take your skills to the next level, you can also utilize the tennis pros that run USTA Team Clinics year-round.
THE CLUB'S FUTURE VISION
The members have come to a majority vote to expand the clubhouse to enhance the experience of the club's members and guests. With the support of its members, CCCC will be moving forward with an addition of a three-story annex. The annex will allow the ability for the club to expand its outdoor seating for dining, devote an indoor court to the popular pickleball, and increase the size of the fitness center and locker rooms. Details are still being finalized, but if you would like an update on this plan, please feel free to reach out to us.
TOP TIPS FOR BUYING LUXURY REAL ESTATE IN BOISE GOLF COMMUNITIES:
PLAY A PRACTICE ROUND. As you are deciding on which course to join, it is important to get out and play a practice round at the golf courses you are considering. While all clubs will have wonderful courses, the communities will differ in slight ways. Consider what you find to be of highest priority. Is it the course itself? The amenities? The social events and members? Once you narrow those down, it will help hone in on which community will best suit you.

EAT DINNER AT THE CLUB.

Not only do many clubs have phenomenal golf, many of them also have great cuisine and dining. When you sign up to be a member at a club, it becomes a place you ultimately spend significant time at. Grab dinner with a few members, meet the staff and experience what it would be like to be a member. As you hope to invite guests to the club and have family meals often, it is important you like their menu and the dining experience.

BE PATIENT WHEN IT COMES TO HOMES ON THE MARKET.

Some of the best homes in a country club community don't come on the market often. Don't rush your purchase. Instead, narrow down your priorities when it comes to the style, price point and amenities of a home you are looking for. Once the right one comes on, you will be more confident in your decision.

FIND A LOCAL REAL ESTATE AGENT WITH EXPERIENCE IN THE COMMUNITY.

Many real estate professionals in the country club community will know of homes in the area before they hit the market. It will be important to work with someone who has sold homes in the community to best help advocate and advise you start to finish. We have extensive experience in country club communities and would be happy to be a resource for you.